GOLDFLO WT®
Dual-wall pipe with integral bell
Product Type: Dual-Wall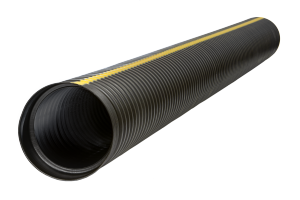 GOLDFLO WT® is high density polyethylene plastic pipe with a watertight integral gasket bell and spigot coupling system. This superior design results in a watertight pipe with maximum strength and optimum flow characteristics.
GOLDFLO WT® is manufactured to the stringent requirements of AASHTO M294 or ASTM F2306, along with the ASTM D3212 watertight laboratory test requirements, making it ideal for projects where cost, installation efficiency, product quality, and watertight performance are critical. 
Contact your Prinsco sales rep to learn more about GOLDFLO WT®.
Related
Watertight integral bell and spigot coupling system allows for quick and easy installation reducing costs and increasing efficiency.
Bell and spigot verified to ASTM D3212 10.8 psi laboratory test.
Mannings n"value of 0.012 allows for greater flow capacity and reduces sediment or debris build-up.
Full offering of standard and custom fittings to meet your specific needs and reduce field fabrication and costly structures.
HDPE material completely resistant to rusting, corrosion and deterioration.
Bell and Spigot allows for quick and easy installation reducing cost and increasing efficiency.
Lightweight and easy field manipulation saves time, labor, and allows for the use of smaller equipment while contributing to a safer working environment.
| Diameter | Number | Length | Wt/Ft (lbs) |
| --- | --- | --- | --- |
| 4″ | 4WT20NP | 20′ | 0.5 |
| 6″ | 06WT20NP | 20′ | 1.0 |
| 8″ | 08WT20NP | 20′ | 1.7 |
| 10″ | 10WT20NP | 20′ | 2.3 |
| 12″ | 12WT10NP | 10′ | 3.1 |
| 12″ | 12WT20NP | 20′ | 3.1 |
| 15″ | 15WT10NP | 10′ | 4.5 |
| 15″ | 15WT20NP | 20′ | 4.5 |
| 18″ | 18WT11NP | 11′ | 6.5 |
| 18″ | 18WT20NP | 20′ | 6.5 |
| 24″ | 24WT11NP | 11′ | 11.0 |
| 24″ | 24WT20NP | 20′ | 11.0 |
| 30″ | 30WT20NP | 20′ | 14.6 |
| 36″ | 36WT20NP | 20′ | 19.0 |
| 42″ | 42WT20NP | 20′ | 30.0 |
| 48″ | 48WT20NP | 20′ | 30.0 |
| 60″ | 60WT20NP | 20′ | 40.0 |
ASTM F 2306: Standard Specification for 12" – 60" (300 – 1500 mm) Annular Corrugated Profile-Wall Polyethylene (PE) Pipe and Fittings for Gravity-Flow Storm Sewer and Subsurface Drainage Applications
AASHTO M 252: Standard Specification for Corrugated Polyethylene Drainage Pipe
AASHTO M 294: Standard Specification for Corrugated Polyethylene Pipe, 300 – 1500 mm
ASTM F 477: Standard Specification for Elastomeric Seals (Gaskets) for Joining Plastic Pipe
ASTM D 3212: Standard Specification for Joints for Drain and Sewer Plastic Pipes using Flexible Elastomeric Seals
Product Brochures
Specifications
Installation Guides
CAD Drawings
Catalogs
Engineering Guides
Fitting Dimensions
Technical Notes
Terms & Conditions